Machining(machiningandgrinding)/forging(coldforgingandhotforging)/pressing(drawingandshearing)/welding/heattreatment


【

Show Google map 】
Company profile

CONTACT
Nippon hamono ltd.
TEL +81-(0)238-21-1111

FAX +81-(0)238-21-1117

3166-1, Hanazawa, Yonezawa City, Yamagata Prefecture,
992-0021, Japan


Company profile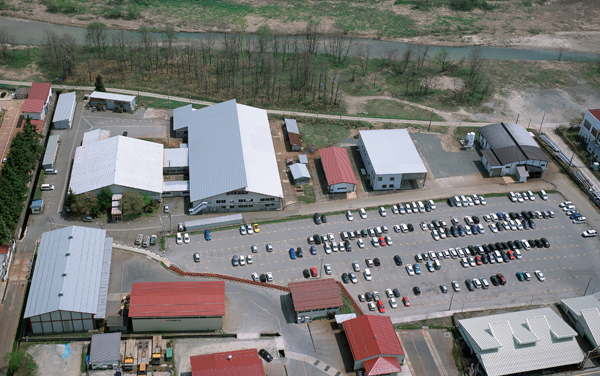 Company name : Nippon hamono ltd.
CEO : Hisanori Ohtomo
Business type : Fabricated metal products, n.e.c.
Business Activities : Machining(machining and grinding), forging(cold forging and hot forging),
pressing(drawing and shearing),welding,heat treatment
Company Address : 3166-1, Hanazawa, Yonezawa City, Yamagata Prefecture, 992-0021, Japan
Show Google map


Date of establishment : May, 1942
Capital stok : 32,000,000yen
Number of employees : 60(man: 53 woman: 7)
Main banks : Japan Finance Corporation (JFC), The Yamagata Bank, Ltd., Shoko Chukin Bank, YONEZAWA SHINKIN BANK

Company history
Prior to 1942: Manufactured and sold Yonezawa sickles as the Otomo Risaburo Shoten business.
1942: Established the Yonezawa Kama Kogyo Ltd. corporation.
1956: Began the manufacture of blades for industrial equipment.
1962: Changed company name to Nippon Hamono Ltd.
1974: Moved to current location, constructing a new company building and factory to accommodate the expansion of the company's business.
1999: Began the processing of parts for industrial equipment.
Mission statement
We contribute to society with high quality blades.
Mission Statement
A company thrives as a result of its superior workers, superior products, and superior marketing.


Superior workers are those who continually hone their abilities,
and superior products are born of research, quality control, and sophisticated technologies.

Superior marketing involves understanding the needs of end-users and providing products that are
always one step ahead, while also prioritizing strategies that benefit the majority, including users and suppliers.


Our decisions are governed by the guiding principle of whether a product will provide customer satisfaction,
and which of our available options will better satisfy our customers.


Our employees preserve the quality of their workplace by continually striving for self-improvement and
maintaining their physical well-being.
Our work ethic
In our product development :
We pursue the essence of sharpness in our innovative products.


In our relationships with customers :
We cultivate mutually beneficial relationships with clients based on trust and a genuine appreciation
for our products.


In our daily work :
We consider the needs of others in our daily work with workplace standards that consistently
put the customer first and encourage employees to think and act for themselves.


In our personnel development :
We are responsible and driven professionals in our field who possess the capacity to understand
and deal with any given situation and the willingness to seek out new challenges for ourselves.


In our product quality and technology :
We remain committed to improving the quality of our products and promoting technological development
as we provide blades that offer exceptional sharpness, durability, and ease of use.

ISO (International Organization for Standardization) Acquisition
Original approval date
August 17, 2012
Certification cycle start date
August 1, 2018
expiration date
August 16, 2021
Certificate number
3461697
Library-name
Nippon Hamono Inc.
Compatible specification
ISO9001:2015/JIS Q 9001:2015
Scope of Certification
Manufacturing of blades, selling and processing metal components
Nippon Hamono Inc.Supervision, manufacturing, processing, quality control
Company Address

3166-1, Hanazawa, Yonezawa City, Yamagata Prefecture, 992-0021, Japan